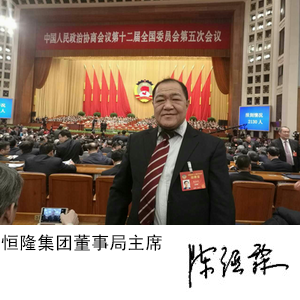 Hubei Henglong group, established by Hong Kong Great Genesis Group limited company as investor in major, owns an American-listed company, three domestic and foreign investment companies, and 27 members of holding enterprises, involving in three fields of auto steering systems, automotive electronics and investment to achieve annual sales revenue of 4.58 billion yuan.
China Automotive Systems, belongs to Henglong group, became listed in American market on August of 2004 (NASDAQ: CAAS), is the leading supplier of auto power steering system and parts manufacturing fields in China. Its total 10 professional auto steering system manufacturing company, are committed to develop and produce various models of steering system parts for truck, passenger vehicles and commercial vehicles . Currently , we can produce four series, 307 species models of power steering gear, electric (EPS) and manual steering, Electric power steering controllers, DCDC, steering column, electric motors (brush and brushless), drive shafts and steering pipes,etc.
We have strong technical resource and research capacity: a research institute, three technical R&D centers, more than 600 experts dedicated to research, development, testing, product and process optimization and application of new materials, owns two registered trademarks and 355 technological patents of power steering, of which 21 are invention patents. We have long-term cooperation with internationally well-known institutions, including Tsinghua University, Wuhan University of technology, Delphi Corporation, Australian BISHOP Company, and Korea Nanyang Company, etc.
We have more than 20 years' history to manufacture automotive power steering gears. We believe that full scale, high quality and reasonable priced products, strong R & D capacity and dominant position will support Henglong group to grow continually in the future. In current rapid changing era, we will base on auto parts manufacturing industry and adhere to the cost leadership strategy to achieve comprehensive transition and upgrading in three areas of "product, market, management".
In terms of market strategy, complete transition to high-end products and high-end markets.
In terms of product pattern, complete transition to automotive electronics products.
In terms of management, with management mode of delayering, information and lean to enhance the operational efficiencies of the group.
In 2020, we will achieve "two entries and more than three", which are summed up as "2533 strategy" and "two projects":
"two entries and more than three": Firstly, we will become top 5 in global steering industry; Secondly, more than five products or customers enter into global procurement platform; Thirdly, the sales of EPS products account for more than one-third of total sales; Fourthly, non-steering products account for more than one-third of total sales; fifthly, international market sales account for more than one-third of total sales;
"2533 strategy" and "two projects": Firstly, the total sales of steering products reach 10 million, and secondly, RCB products become the largest global suppliers. We will endeavor to make Henglong group a global supplier of international competitiveness and most security in the field of intelligent vehicles.